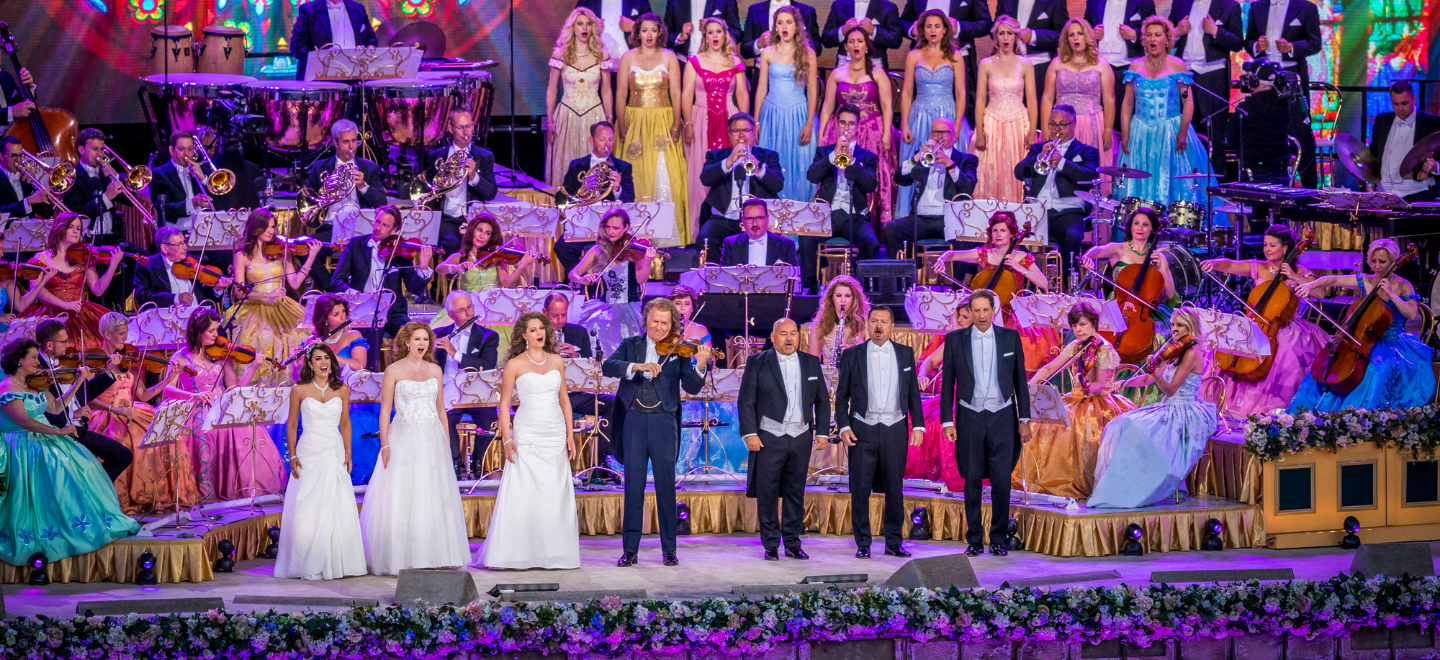 Violin Superstar André Rieu returns to Aberdeen in 2023
Violin superstar André Rieu, who made classical music accessible to millions around the world and turned the waltz into an international sensation, has announced new UK/Ireland Arena Dates as part of his World Tour 2023.
It starts in London (OVO Arena Wembley) on 14th April, comes to Aberdeen (P&J Live) on 25th April and ends in Glasgow (OVO Hydro) on 27th May 2023. Performances are scheduled for Birmingham, Belfast, Dublin, Nottingham, Leeds, Liverpool, Sheffield, Aberdeen and Glasgow.
André Rieu's romantic and joyful programs include a mixture of light classics, waltzes, music from film and opera as well as pop songs, performed by his Johann Strauss Orchestra, the biggest private orchestra in the world. Rieu has had soccer crowds swaying to Shostakovich during several Champions League Games and his world tours reach over half a million people each year.
"Emotions are the key.", says André Rieu. "Everybody is welcome in my concerts. We open our hearts for the audience and the audience opens their hearts for us. Every night my orchestra and I see people dancing and singing in the aisles, enthusiastic and carefree. Together we spend evenings that we do not forget. When people write me that they need two weeks to come down after my concerts, it makes me the happiest man in the world!"
André's YouTube videos have reached far over one billion views; almost 9 million fans follow him on Facebook. Among his 40 million sold albums, his 2022 release "Happy Together" has reached top 10 positions in many countries again, including Nr. 6 in the UK Pop charts. André Rieu's tours are regularly outselling the world's top pop and rock stars. His concerts are also a visual treat, from the sight of him and his musicians entering through the crowd and up on to the stage at the beginning of the concert, to the lavish costumes and the vast screen behind the orchestra displaying beautiful imagery tailor-made for each song, guaranteeing a magical evening for the whole family.
Louise Stewart, Head of Entertainment, Exhibitions & Marketing at P&J Live says: "We are thrilled to welcome the legendary Mr Rieu back to Aberdeen again after he donned his kilt and delivered a sold-out show at P&J Live in April 2022. The incredible Johann Strauss Orchestra are a terrific sight to behold and with his usual dash of classical magic, André never disappoints. We look forward to seeing some dancing in the aisles again next year – it's things like this that makes his show so very special."
In April and May 2022, the Dutch violinist and his 60-piece Johann Strauss Orchestra performed their biggest UK/Ireland Tour ever, playing for 150.000 people and are now very much looking forward to returning to the UK/Ireland in 2023.
André Rieu is not just for an evening – he is for life!
Venue pre-sale starts Thursday 9th June 12pm, tickets go on general sale Friday 10th June at 12pm on ticketmaster.co.uk
Frequently Asked Questions
How can I buy Premium tickets?
How can I buy a VIP View Bar Upgrade?

You can purchase a VIP View Bar Upgrade to selected events here. It includes early access, fast-track entry, complimentary drink on arrival and access to the View Bar before, during and post-show.
How can I purchase tickets for a concert at P&J Live?

Tickets are available from our ticketing agent Ticketmaster on www.ticketmaster.co.uk

P&J Live do not sell tickets directly.
How do I register for access to venue presale?

For certain events, venue presale tickets might be on offer. This means you'll be access tickets before they go on general sale.

To gain access to our exclusive venue presale, sign up to our newsletterhere and we will send you an email with the presale link for tickets go on general sale!

Tip: Also follow us on Facebook, Twitter and Instagram to stay updated.
How can I book a table at 195 Bar & Grill?

Our 195 Bar & Grill offers a unique dining experience before selected shows at P&J Live. You can check availability and book a table here.
Will I be able to purchase food at P&J Live?

There is a wide range of food and beverage options available to purchase for concerts and events, including catering outlets offering a variety of hot food options.

Please note - it is against venue policy to allow patrons to bring in their own food and drink to the venue. At P&J live it is our aim to be completely cashless, all of our bars, kiosks and restaurants accept card payments, this is more efficient, safe and ensures a speedy transaction. There are therefore no cash machines on the TECA site.
Is there parking available at P&J Live?

Yes, there is parking available on-site at P&J Live.

There are various ways to pay for your parking at P&J Live

On site payment machines: We accept both cash and card payments on site, pay on exit is required by entering your vehicle registration at any one of our machines located in the car parks. Please note payment machines only take coins and not notes.

APCOA Connect App: Up to 24 hour after you have left the venue, you can pay for your parking on the APCOA Connect App. Once you have downloaded the app, use location code 6680 for the Sub-T Car Park (underground) and location code 2356 for the Surface Car Park.

You can also pay for parking via the APCOA website here, click which car park you parked in and then you will be able to pay for parking.
Can I pay by cash within P&J Live?

At P&J Live it is our aim to be completely cashless, all of our bars, kiosks and restaurants accept card and contactless payments. This is more efficient, safe and ensures a speedy transaction.

There are no cash machines on the TECA sites.
What bus can take me to P&J Live?

Regular buses will be coming in and out of the complex daily for public use. Details on bus routes and operators are still in discussion and any updates will be posted on the getting here page of the website.

Currently, the Stagecoach Bluebird Jet Service 727 runs regularly from Aberdeen City Centre to Aberdeen Airport, stopping in the TECA site.
How do I purchase accessible seating for a show at P&J Live?

All the tickets for our Special Access Platform are sold via our ticket agent Ticketmaster.

Further information on accessibility at the Venue can be found on our Accessibility page.