The Association Surgeons in Training UK National Conference 2022: Case Study
The event:
The UK National Conference of The Association of Surgeons in Training (ASiT) took place at P&J Live from 4th to 6th March 2022.
About:
ASiT is an independent professional body that works to promote the highest standards in surgical training and is now one of the largest surgical speciality associations in the UK with 3,500 members. ASiT provides trainee courses, grants and bursaries as part of its membership. The association has yearly conferences that provide educational courses, scientific presentations and lectures of surgical training, with members coming from all ten surgical specialities, representing all levels of surgical training.
Number of days/ delegates:
Day one of the conference saw 300 delegates attend P&J Live, with 600 delegates on day two and three. The conference hosted training courses, main plenary session, a poster display area, exhibition and catering area within the venue's Baker Hughes Conference & Exhibition Hub.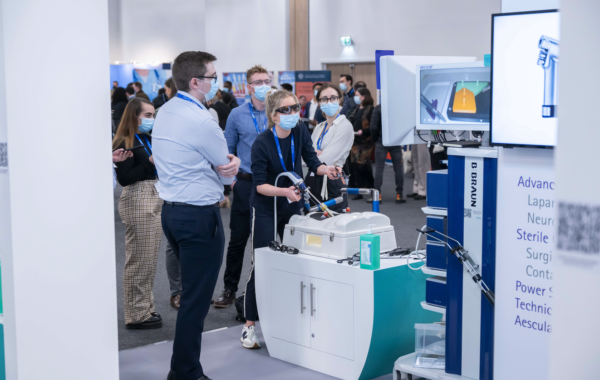 Venue Set Up:
Throughout the conference over the three days, ASiT used all meeting and conference spaces on the first floor of the venue.
Delegates were welcomed to priority check-in desks allowing for a quick and easy registration before making their way through to begin the conference. P&J Live has nine meeting rooms, some of which can be sub-divided. ASiT utilised all eleven meeting rooms for delegate training courses. Next to the meeting room lives Conference Suite 2. The close proximity to the meeting rooms meant that delegates could easily navigate to the main plenary session.
Our in-house technicians worked closely with the events team to successfully deliver state-of-the-art conference audiovisual technology to enhance and engage delegates. Conference Suite 2, another flexible space, hosted large conference sessions throughout the day.
Right outside CS1 is an impressive open-plan space, aptly named The View, with expansive vistas over the main Piazza of P&J Live. These two areas accommodated an eye-catching poster display, exhibition and catering area. The council dinner was held in P&J Live's 195 Bar & Grill, with the exhibition space transforming into the drinks reception area.
The highly flexible nature of the venue means that spaces are multi-use for different conference elements and allows for natural flowing corporate and social spaces all on one floor. Digital wayfinding signage meant that ASiT could personalise content for ease of navigation around each event space.
A dedicated shell-scheme exhibition area was also built by our in-house team. This service provision means that there is often little need for additional build days, while there is also in-house expertise on hand throughout the event to assist with technical support.
Being set in Aberdeen's north east, the venue prides itself on excellent catering, with access to Scotland's natural larder. Delivering the finest seasonal Scottish ingredients from many of the North East's fantastic local producers, there is an impressive range of choices that tantalise the tastebuds of every guest. Carefully crafted by our in-house chefs, ASiT delegates enjoyed a range of fresh food and beverages over the course of three days.
Organiser Quote
"P&J Live offered us a self-contained space where our attendees could experience the main plenary, workshops and exhibition and posters all whilst really maximising the networking opportunity with their peers. It was great to be back at an in-person conference, one which our members thoroughly enjoyed!" – Emma Barlow, ASiT Co-Chair
Frequently Asked Questions
How can I buy Premium tickets?
How can I buy a VIP View Bar Upgrade?

You can purchase a VIP View Bar Upgrade to selected events here. It includes early access, fast-track entry, complimentary drink on arrival and access to the View Bar before, during and post-show.
How can I purchase tickets for a concert at P&J Live?

Tickets are available from our ticketing agent Ticketmaster on www.ticketmaster.co.uk

P&J Live do not sell tickets directly.
How do I register for access to venue presale?

For certain events, venue presale tickets might be on offer. This means you'll be access tickets before they go on general sale.

To gain access to our exclusive venue presale, sign up to our newsletterhere and we will send you an email with the presale link for tickets go on general sale!

Tip: Also follow us on Facebook, Twitter and Instagram to stay updated.
How can I book a table at 195 Bar & Grill?

Our 195 Bar & Grill offers a unique dining experience before selected shows at P&J Live. You can check availability and book a table here.
Will I be able to purchase food at P&J Live?

There is a wide range of food and beverage options available to purchase for concerts and events, including catering outlets offering a variety of hot food options.

Please note - it is against venue policy to allow patrons to bring in their own food and drink to the venue. At P&J live it is our aim to be completely cashless, all of our bars, kiosks and restaurants accept card payments, this is more efficient, safe and ensures a speedy transaction. There are therefore no cash machines on the TECA site.
Is there parking available at P&J Live?

Yes, there is parking available on-site at P&J Live.

There are various ways to pay for your parking at P&J Live

On site payment machines: We accept both cash and card payments on site, pay on exit is required by entering your vehicle registration at any one of our machines located in the car parks. Please note payment machines only take coins and not notes.

APCOA Connect App: Up to 24 hour after you have left the venue, you can pay for your parking on the APCOA Connect App. Once you have downloaded the app, use location code 6680 for the Sub-T Car Park (underground) and location code 2356 for the Surface Car Park.

You can also pay for parking via the APCOA website here, click which car park you parked in and then you will be able to pay for parking.
Can I pay by cash within P&J Live?

At P&J Live it is our aim to be completely cashless, all of our bars, kiosks and restaurants accept card and contactless payments. This is more efficient, safe and ensures a speedy transaction.

There are no cash machines on the TECA sites.
What bus can take me to P&J Live?

Regular buses will be coming in and out of the complex daily for public use. Details on bus routes and operators are still in discussion and any updates will be posted on the getting here page of the website.

Currently, the Stagecoach Bluebird Jet Service 727 runs regularly from Aberdeen City Centre to Aberdeen Airport, stopping in the TECA site.
How do I purchase accessible seating for a show at P&J Live?

All the tickets for our Special Access Platform are sold via our ticket agent Ticketmaster.

Further information on accessibility at the Venue can be found on our Accessibility page.