Welcome to the ticketing section, here you will find everything you need to know about buying tickets for events at P&J Live.
Authorised Tickets From Ticketmaster
P&J Live's official ticketing services provider is TICKETMASTER you will notice on our event pages a link to 'Book Tickets', when you click here you will be taken straight to the Ticketmaster site to make your purchase. If you haven't already done so, you will be asked to register with Ticketmaster, once you have done this, your account is active and ready for use.
Unauthorised Ticket Outlets
Please be aware that if you don't buy your tickets from authorised ticket outlets you run the risk of being refused entry to the venue or not getting a refund if the event is cancelled or postponed. The safest option is to use the Book Ticket link on this website of via the artists website direct. Viagogo is NOT an authorised tickets outlet. If you choose not to use the ticket options provided by P&J Live and are unsure of the legitimacy of a ticket outlet, we suggest you check the official artist or promoter website.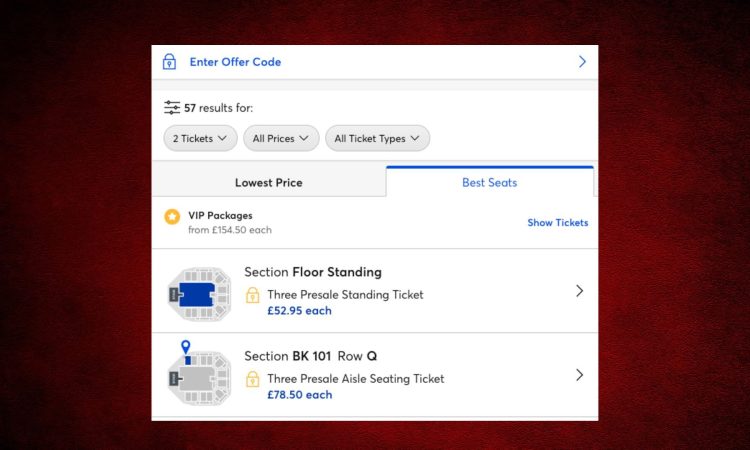 Presale Access
Be one of the first fans to secure tickets to an upcoming show, be first to find out about what's coming up and unlock access to our venue news. As a P&J Live subscriber, you will automatically gain pre-sale access ahead of general on-sale and we will keep you informed of everything you need to know about our venue and who's touring next.
You can book tickets online directly from the P&J Live website, search our What's On Sections for shows and once you have made your choice, simply click on the 'Book Tickets' button on the event page. This will take you straight through to the Ticketmaster site.
You can also buy tickets for accessible areas of the venue online for all events (subject to availability). From the Ticketmaster booking page just select 'All Ticket Types' from the drop down menu on the right hand side.

Digital Tickets
Your tickets will be stored in your Ticketmaster account and can be accessed via the TM mobile app on you device. No more worrying if tickets will arrive in the post or hoping they arrive in time. The stress of losing or forgetting your tickets in gone, now they are stored securely on your device and are available for you at any time.
Ticket Transfer
Ticket Transfer lets you send tickets to friends before the event, straight from your Ticketmaster account to theirs. No more driving around town handing out tickets or waiting outside the venue for the friend who's always late! Ticket Transfer is convenient, simple and free and can be done on your desktop or mobile.
The Ticketmaster App
Fans can download the Ticketmaster App in the App Store for iPhones and Apple Devices, and in the Google Play App Store for Android.

The Ticketmaster app is the best way to discover and buy tickets for all of P&J Live's events including music, sport, comedy, exhibitions and family events; it's also faster increasing your chances of securing the best tickets on that initial click.

Your Ticketmaster app will also store all of your event tickets securely, your mobile ticket will be scanned directly from the app to gain entry to the venue.
Accessible Seating
An innovative venue designed for all, P&J Live prides itself on being accessible to everyone. If you are able to or have someone to assist you, please visit P&J Live's Ticketmaster Page, select the event you wish to see and click on 'All Ticket Types' to select your required seating (ambulant or wheelchair) and any companion tickets (if required). For more information on Accessible Seating click here.

Free Companion Tickets
Where a patron with disabilities requires a companion to attend then the combined total cost for patron and companion will be equivalent to the full price of one ticket. This must be selected at time of booking before payment is made.

You have the option to book a companion ticket online at the time of purchase. If you are unable to book online please send a request with seating requirements and contact details to [email protected] If the information you require is not listed here or you need information on the venue itself, then please email us at [email protected].
Venue Box Office
Our Box Office is located on ground level and can be found next to our main arrival doors on the piazza. Open on live entertainment event days only:

Evening Events - Open from 5pm on the day, closed when the main act is on stage
Early Events - Open 1 hour before doors open, closed when the main act is on stage

Ticketmaster Customer Services
If you need to contact Ticketmaster Customer Service, please click here. Get answers to most questions fast with our FAQs - just choose the topic and enter a keyword (e.g. "mobile delivery ") in the search box.

Contact Us - Email with Fan Support Monday - Sunday 9am-9pm Eastern time zone.

To reach Fan Support: If you have an order, click here (which will take you to your Order History), and then, follow the steps below:

Find your order (the one you need to contact us about), either in the Upcoming or Past Event tabs, then click "See Details"
Click "Contact Us" at the bottom right of the Event Details page
Ticketmaster Smart Help
Smart Help allows fans to submit an enquiry about their order directly through their MyAccount and uses automations to route the fan to the answer they are looking for as quickly as possible.

All support requests are linked directly to orders, so Ticketmaster have waved goodbye to fill-in forms and replaced with drop downs and a message box for a better user experience.

Thanks to the clean data that Smart Help provides, Ticktmaster can respond to fans much more efficiently, freeing up our Fan Support team to focus on the more complex enquiries that need a bit more attention.
Three
Get Three pre-sale access to some of the hottest events at P&J Live, thanks to the Three+ rewards app. The app is free to download for Three customers to enjoy the latest rewards and a few extra plusses in life. The app is available to download from the Apple App Store and Google Play Store now, plus Huawei EMUI 11.
Klarna
Buy Now, Pay Later with Klarna – now available to fans on Ticketmaster UK for selected events. Pay in 3 interest-free instalments or financing up to 12 months. Choose flexible payment options at checkout and bag those tickets to your next gig.
If you have a specific question, which has not been covered in the information above please email - [email protected]
Frequently Asked Questions
How can I buy Premium tickets?
How can I buy a VIP View Bar Upgrade?

You can purchase a VIP View Bar Upgrade to selected events here. It includes early access, fast-track entry, complimentary drink on arrival and access to the View Bar before, during and post-show.
How can I purchase tickets for a concert at P&J Live?

Tickets are available from our ticketing agent Ticketmaster on www.ticketmaster.co.uk

P&J Live do not sell tickets directly.
How do I register for access to venue presale?

For certain events, venue presale tickets might be on offer. This means you'll be access tickets before they go on general sale.

To gain access to our exclusive venue presale, sign up to our newsletterhere and we will send you an email with the presale link for tickets go on general sale!

Tip: Also follow us on Facebook, Twitter and Instagram to stay updated.
How can I book a table at 195 Bar & Grill?

Our 195 Bar & Grill offers a unique dining experience before selected shows at P&J Live. You can check availability and book a table here.
Will I be able to purchase food at P&J Live?

There is a wide range of food and beverage options available to purchase for concerts and events, including catering outlets offering a variety of hot food options.

Please note - it is against venue policy to allow patrons to bring in their own food and drink to the venue. At P&J live it is our aim to be completely cashless, all of our bars, kiosks and restaurants accept card payments, this is more efficient, safe and ensures a speedy transaction. There are therefore no cash machines on the TECA site.
Is there parking available at P&J Live?

Yes, there is parking available on-site at P&J Live.

There are various ways to pay for your parking at P&J Live

On site payment machines: We accept both cash and card payments on site, pay on exit is required by entering your vehicle registration at any one of our machines located in the car parks. Please note payment machines only take coins and not notes.

APCOA Connect App: Up to 24 hour after you have left the venue, you can pay for your parking on the APCOA Connect App. Once you have downloaded the app, use location code 6680 for the Sub-T Car Park (underground) and location code 2356 for the Surface Car Park.

You can also pay for parking via the APCOA website here, click which car park you parked in and then you will be able to pay for parking.
Can I pay by cash within P&J Live?

At P&J Live it is our aim to be completely cashless, all of our bars, kiosks and restaurants accept card and contactless payments. This is more efficient, safe and ensures a speedy transaction.

There are no cash machines on the TECA sites.
What bus can take me to P&J Live?

Regular buses will be coming in and out of the complex daily for public use. Details on bus routes and operators are still in discussion and any updates will be posted on the getting here page of the website.

Currently, the Stagecoach Bluebird Jet Service 727 runs regularly from Aberdeen City Centre to Aberdeen Airport, stopping in the TECA site.
How do I purchase accessible seating for a show at P&J Live?

All the tickets for our Special Access Platform are sold via our ticket agent Ticketmaster.

Further information on accessibility at the Venue can be found on our Accessibility page.