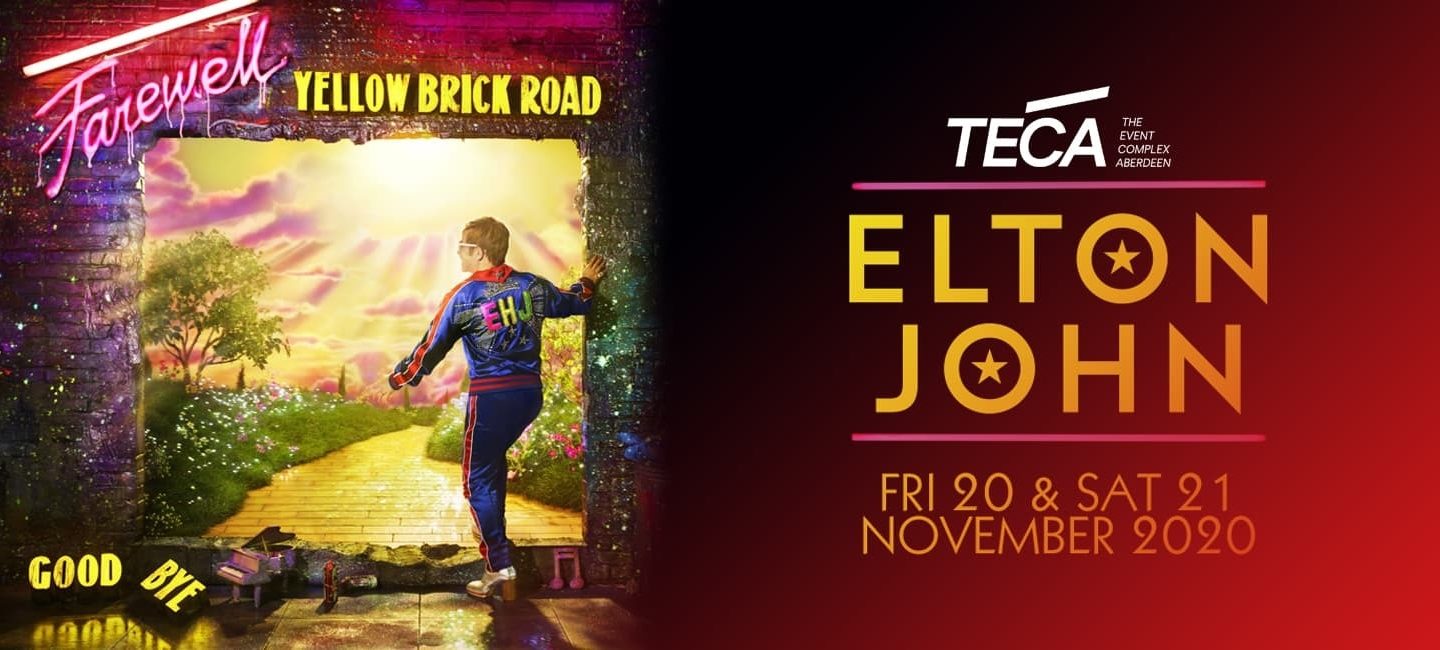 First live music announced for TECA
Sir Elton John announces 2020 UK tour dates of his Farewell Yellow Brick Road tour, including two dates at Aberdeen's brand new event complex, TECA.
The world-class facility, opening in Summer 2019, will attract a variety of events and big names to the North East of Scotland, and with Sir Elton John as their first live music act to be announced, it is expected to draw visitors from out with the Aberdeen area and boost the local economy.
Aberdeen City Council Co-Leader Councillor Jenny Laing said: "It's fantastic that Elton John is the first announcement of a major music act for our multi-million-pound new TECA arena. Sir Elton is a world-renowned artist and TECA is designed to play a significant role in ensuring Aberdeen and the wider north-east continues to compete on a global scale by attracting major artists and new events as well as retaining existing international events. The venue fits with the aims of our Regional Economic Strategy which has internationalisation at its heart and is vital to the area's future prosperity."
TECA's Arena capacity of 12,500 and the accessible location to air, rail and road links will open next year, the event complex is being delivered by Aberdeen City Council in partnership with Henry Boot Developments.
Nick Harris, Director at Henry Boot Developments said: "It's brilliant to hear that TECA has its first live music act booked. Our plans were always for a venue that would attract big name acts to Aberdeen, and the fact that Sir Elton John is coming to town confirms that is the case. I'm confident that the one of the UK's finest singers, pianists, and composers will be the first of many world class stars to announce they'll play at what will be a world class arena."
Sir Elton's three-year world-wide tour will consist of more than 300 shows across five continents, hitting North America, Europe, Asia, South America and Australasia, concluding his tour in 2021. Elton's new stage production will take his fans on a musical and highly visual journey spanning a 50-year career of hits like no one has ever seen before. Sir Elton John will perform in Aberdeen's brand new venue, TECA on 20 and 21 November 2020.
Louise Stewart, Head of Entertainment at TECA commented: "We are so pleased to finally announce our first music act for TECA, welcoming Sir Elton John back to the North East of Scotland for a final time is an honour. We know that Elton's fans will provide a warm welcome when he graces the new Aberdeen stage in November 2020 as part of his Farewell Yellow Brick Road World Tour. Attracting music royalty to Aberdeen's transformational new venue is key to the success of TECA, this announcement is the first of many and we look forward to welcoming a new variety of entertainment acts to the region."
General tickets go on sale at 10.00am on Friday 16 November 2018. Tickets are expected to sell out fast.
The post First live music announced for The Event Complex Aberdeen (TECA) appeared first on AECC.