Elton John: Yellow Brick Road Tour
TUESDAY 13TH & THURSDAY 15TH JUNE 2023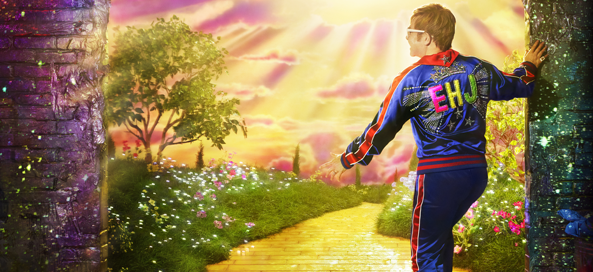 Event Details
Dates

TUESDAY 13TH & THURSDAY 15TH JUNE 2023

Time

6pm

Price

From £52.15 inc booking fees

Restrictions

All seated show: Under 14's must be accompanied by an adult (18+).

Seating Chart

Book now

Save to Wishlist
VIP VIEW BAR UPGRADES:
VIP DINING UPGRADES:
NEW DATE: Sir Elton John's Farewell Yellow Brick Road tour has been rescheduled and will now take place at Aberdeen's P&J Live on Tuesday 13th and Thursday 15th June 2023!
Sir Elton's world-wide tour consists of more than 300 shows across five continents, hitting North America, Europe, Asia, South America and Australasia. Elton's stage production will take his fans on a musical and highly visual journey spanning a 50-year career of hits like no one has ever seen before.
It is with great sadness and a heavy heart that I am forced to reschedule the 2021 dates of my Farewell Yellow Brick Road tour in Europe and the UK to 2023.
At the end of my summer break I fell awkwardly on a hard surface and have been in considerable pain and discomfort in my hip ever since. Despite intensive physio and specialist treatment, the pain has continued to get worse and is leading to increasing difficulties moving. I have been advised to have an operation as soon as possible to get me back to full fitness and make sure there are no long-term complications. I will be undertaking a program of intensive physiotherapy that will ensure a full recovery and a return to full mobility without pain.
I am going to complete the charitable Global Citizen event on 25th September as I don't want to let a charity down. Being just five songs it's a very different physical undertaking to the demands of playing for close to three hours every night on tour and travelling overnight between countries. After this I will be having the operation to ensure the tour can get back on the road in January of 2022 in New Orleans.
I know how patient my incredible fans have been since Covid halted touring last year, and it breaks my heart to keep you waiting any longer. I completely feel your frustrations after the year we've had. I promise you this - the shows will return to the road next year and I will make sure they are more than worth the wait.
Love,
Elton x
TICKET INFO: Your ticketing provider will be in touch. All tickets remain valid, for customers originally booked to attend the P&J Live, Aberdeen show on Friday 20 Nov 2020 or Thursday 9th December 2021, these will now be rescheduled to Tuesday 13th June 2023, for customers originally booked to attend the P&J Live, Aberdeen show on Saturday 21 Nov 2020 or Friday 10th December 2021, these will now be rescheduled to Thursday, 15th June 2023.
The epic three-hour performance from Elton John has received 5 star reviews from various sources:
New York Post
'John was a joy as he delivered crowd favourite after crowd favourite. The Rocket Man is going out with one Big Bang.'
NJ.COM
'There's no denying the energy and joy still present in his performances, let alone his stalwart talent - he truly didn't miss a beat this night.'
Asbury Park Press
'The pianist still has a lot left in the tank. His voice is full and sonorous, his playing is nimble, and his energy on this heatwave night was high.'
Metro ⭐️⭐️⭐️⭐️⭐️
'The good news is that John is going neither quietly nor gracefully. He is dragging himself into retirement raucously and defiantly. When Elton John plays a greatest hits set, they really are hits, they really are great and they stay played.'
Daily Mail ⭐️⭐️⭐️⭐️⭐️
'An emotional evening, packed with heart-wrenching piano ballads and joyous rock 'n' roll songs from one of pop's greatest back catalogues... he remains an indefatigable frontman'
Daily Telegraph ⭐️⭐️⭐️⭐️⭐️
'Elton John is bowing out still at the height of his powers, perhaps the greatest showman of our times.'
The Times ⭐️⭐️⭐️⭐️⭐️
'(Elton) is going out with the show of his life'
Frequently Asked Questions
Will I be able to purchase food at P&J Live?

There is a wide range of food and beverage options available to purchase for concerts and events, including catering outlets offering a variety of hot food options.

Please note - it is against venue policy to allow patrons to bring in their own food and drink to the venue. At P&J live it is our aim to be completely cashless, all of our bars, kiosks and restaurants accept card payments, this is more efficient, safe and ensures a speedy transaction. There are therefore no cash machines on the TECA site.
Is there parking available at P&J Live?

Yes, there is parking available on-site at P&J Live.

There are various ways to pay for your parking at P&J Live

On site payment machines: We accept both cash and card payments on site, pay on exit is required by entering your vehicle registration at any one of our machines located in the car parks. Please note payment machines only take coins and not notes.

APCOA Connect App: Up to 24 hour after you have left the venue, you can pay for your parking on the APCOA Connect App. Once you have downloaded the app, use location code 6680 for the Sub-T Car Park (underground) and location code 2356 for the Surface Car Park.

You can also pay for parking via the APCOA website here, click which car park you parked in and then you will be able to pay for parking.
Can I pay by cash within P&J Live?

At P&J Live it is our aim to be completely cashless, all of our bars, kiosks and restaurants accept card and contactless payments. This is more efficient, safe and ensures a speedy transaction.

There are no cash machines on the TECA sites.
What bus can take me to P&J Live?

Regular buses will be coming in and out of the complex daily for public use. Details on bus routes and operators are still in discussion and any updates will be posted on the getting here page of the website.

Currently, the Stagecoach Bluebird Jet Service 727 runs regularly from Aberdeen City Centre to Aberdeen Airport, stopping in the TECA site.
How do I purchase accessible seating for a show at P&J Live?

All the tickets for our Special Access Platform are sold via our ticket agent Ticketmaster.

Further information on accessibility at the Venue can be found on our Accessibility page.
Getting to P&J Live
P&J Live
East Burn Road,
Stoneywood,
ABERDEEN,
AB21 9FX