Arenacross
Saturday 28th to Sunday 29th January 2023
Event Details
Dates

Saturday 28th to Sunday 29th January 2023

Time

Doors: Saturday 5:00pm / Sunday 2:00pm

Price

From £26.52 + fees

Parking

Normal charges apply

Restrictions

Under 14s accompanied by an adult 18+. Under 2s can sit on parents laps.

Seating Chart

Book now

Save to Wishlist
Event Timings Saturday
Box Office: 16:30
Doors open: 17:00
Pits (Hall A): 17:00
Track Walk Meet & Greet: 17:30 (upgrade ticket holders only)
Show Start: 19:30
Show Ends: 22:55
Event Timings Sunday
Box Office: 13:30
Doors open: 14:00
Pits (Hall A) 14:00
Track Walk Meet & Greet: 14:30 upgrade ticket holders only)
Show Start: 16:30
Show Ends: 19:55
Arenacross - the craziest night out in the dirt at P&J Live on 28th & 29th January 2023.
Arenacross is a show like no other. It's a high-octane mix of indoor Motocross racing and Freestyle Motocross (FMX) badness and is packed to the rafters with all-round family fun and frenzied entertainment. It's guaranteed to keep you on your feet yelling and hollering for more!
The racing is all about speed and skill. Some of the fastest professional Motocross racers from around the world view Arenacross as a must-do championship as much for professional pride and the kudos of lifting the Arenacross title, as for the substantial pot of prize money. They take no prisoners as they battle their way through the short, sharp and frenetic qualifying races with their sights firmly set on making it through to the Main Event Final.
FMX on the other hand, takes the action, quite literally, to another level! It's mind-blowing, spectacular and dangerous in equal measure. It takes place some 60ft in the air when a group of insanely talented 'rebels' fly off a huge ramp over a platform in the centre of the arena, throwing loads of cool and seemingly impossible tricks, one-handed, no-handed, sideways, upside-down, you name it, they do it.
These awesome sporting stars compete in year-round world tour events such as the X-Games and Red Bull X-Fighters, and we leave no stone unturned as we source the very best and craziest for Arenacross. But … you've got to get involved as, the louder you scream, the bigger the tricks. These guys are the world's best when it comes to showing off!
There is so much more to Arenacross all aimed at keeping the audience engaged and shrieking for more. But don't just take our word for it …. BUY TICKETS!
Upgrade your ticket to go behind the scenes of Arenacross before the general admission doors open. You'll get to walk the hallowed grounds of Arenacross and hear how, with thousands of tons of dirt, the usually safe and sane Arena floor is transformed into a technically-challenging indoor race circuit. Then it's your chance to meet and greet several of the racing and FMX superstars, before feasting your eyes on your very own, private and specially-created FMX show! All this before the main event even starts!
________
VIP View Bar Upgrades - *THIS IS NOT AN EVENT TICKET OR TRACK WALK*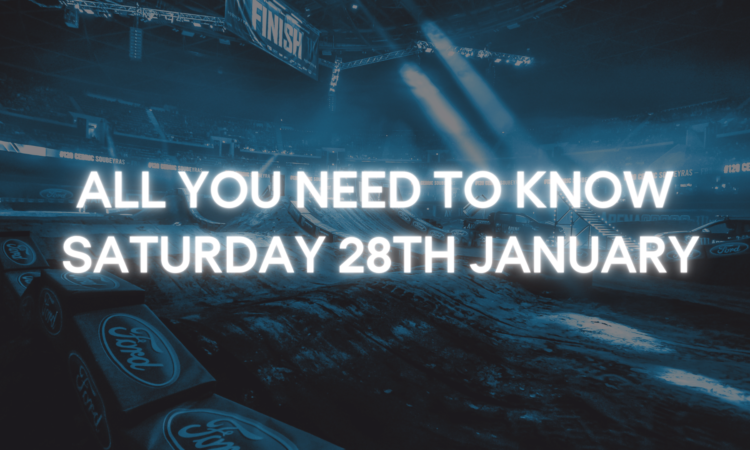 All You Need To Know - Saturday 28th
Download everything you need to know before Arenacross on Saturday 28th January 2023.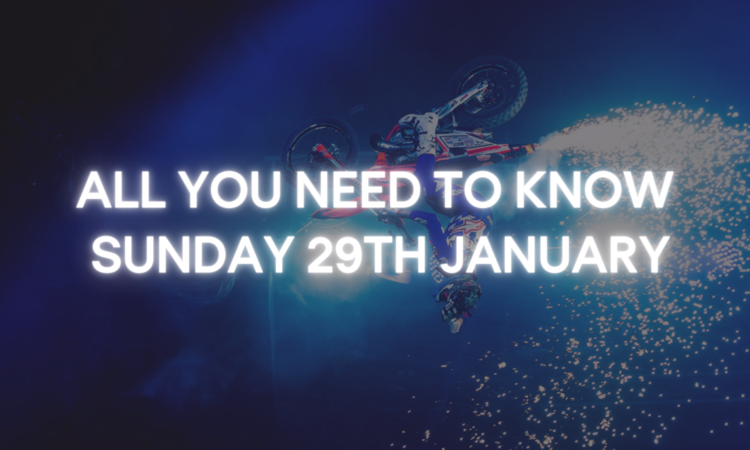 All You Need To Know - Sunday 29th
Download everything you need to know before Arenacross on Sunday 29th January 2023.
727 Service
Download the 727 Service timetable ahead of your visit. PJ1 service is available after the event has finished on the Saturday.
Frequently Asked Questions
How can I buy Premium Hospitality tickets?
How can I buy a VIP View Bar Upgrade?

You can purchase a VIP View Bar Upgrade to selected events here. It includes early access, fast-track entry, complimentary drink on arrival and access to the View Bar before, during and post-show.
How can I purchase tickets for a concert at P&J Live?

Tickets are available from our ticketing agent Ticketmaster on www.ticketmaster.co.uk

P&J Live do not sell tickets directly.
How do I register for access to venue presale?

For certain events, venue presale tickets might be on offer. This means you'll be access tickets before they go on general sale.

To gain access to our exclusive venue presale, sign up to our newsletterhereand we will send you an email with the presale link for tickets go on general sale!

Tip: Also follow us on Facebook, Twitter and Instagram to stay updated.
How can I book a table at 195 Bar & Grill?

Our 195 Bar & Grill offers a unique dining experience before selected shows at P&J Live. You can check availability and book a table here.
Will I be able to purchase food at P&J Live?

There is a wide range of food and beverage options available to purchase for concerts and events, including catering outlets offering a variety of hot food options.

Please note - it is against venue policy to allow patrons to bring in their own food and drink to the venue. At P&J live it is our aim to be completely cashless, all of our bars, kiosks and restaurants accept card payments, this is more efficient, safe and ensures a speedy transaction. There are therefore no cash machines on the TECA site.
Is there parking available at P&J Live?

Yes, there is parking available on-site at P&J Live.

There are various ways to pay for your parking at P&J Live

On site payment machines: We accept both cash and card payments on site, pay on exit is required by entering your vehicle registration at any one of our machines located in the car parks. Please note payment machines only take coins and not notes.

APCOA Connect App: Up to 24 hour after you have left the venue, you can pay for your parking on the APCOA Connect App. Once you have downloaded the app, use location code 6680 for the Sub-T Car Park (underground) and location code 2356 for the Surface Car Park.

You can also pay for parking via the APCOA website here, click which car park you parked in and then you will be able to pay for parking.
Can I pay by cash within P&J Live?

At P&J Live it is our aim to be completely cashless, all of our bars, kiosks and restaurants accept card and contactless payments. This is more efficient, safe and ensures a speedy transaction.

There are no cash machines on the TECA sites.
What bus can take me to P&J Live?

Regular buses will be coming in and out of the complex daily for public use. Details on bus routes and operators are still in discussion and any updates will be posted on the getting here page of the website.

Currently, the Stagecoach Bluebird Jet Service 727 runs regularly from Aberdeen City Centre to Aberdeen Airport, stopping in the TECA site.
How do I purchase accessible seating for a show at P&J Live?

All the tickets for our Special Access Platform are sold via our ticket agent Ticketmaster.

Further information on accessibility at the Venue can be found on our Accessibility page.
Getting to P&J Live
P&J Live
East Burn Road,
Stoneywood,
ABERDEEN,
AB21 9FX