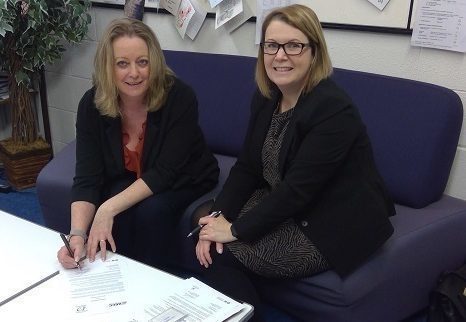 The Event Complex Aberdeen (TECA) enters into a flagship business partnership with Dyce Academy.
TECA is Scotland's brand new, state-of-the-art events venue. Opening this summer, the £333 million development, being delivered by Aberdeen City Council in partnership with Henry Boot Developments, will replace the Aberdeen Exhibition and Conference Centre (AECC) with 48,000 square metres of multi-purpose event space, and boasts world-class conference and exhibition halls, a superior arena, spacious hospitality boxes and a contemporary restaurant.
Lesley Adam, Head Teacher at Dyce Academy said "We hope to be able to work with TECA to widen business opportunities available to our staff and pupils through curriculum links and career opportunities. Pupils engaging with an organisation as large as TECA and on our doorstep may allow us to give them bespoke work experience in a diverse range of areas within the organisation. We would also like to develop leadership capacity in our young people through working with TECA. We have identified a range of activities from mock interviews to site visits that we could work on together to benefit both organisations."
The agreements outlines the initiatives proposed between the partners including work placement, modern apprenticeships and school leaver positions. TECA will also hold mock interviews, and work inspiration activities such as a career fair and site visits.
Louise Mackie, HR Manager at TECA commented "It is a great opportunity to be involved with Dyce Academy, and invest in the next generation. With opening TECA this summer, we will have a range of exciting new opportunities, and we hope to increase the development of enterprise in education with the support of professional and technical personnel resources. The importance and value of this relationship is vital in assisting pupils achievement, develop their interpersonal skills and gain real life working experiences."
The sustainable relationship is part of DYWNE (Developing the Young Workforce of North East Scotland) who will provide support and assistance as and when required. DYWNE help build meaningful partnerships between employers and education to benefit young people.
Frequently Asked Questions
How can I buy Premium tickets?

You can see our hospitality packages here. To discuss premium experiences or package options, contact our team or purchase online via Seat Unique.
How can I buy a VIP View Bar Upgrade?

You can purchase a VIP View Bar Upgrade to selected events here. It includes early access, fast-track entry, complimentary drink on arrival and access to the View Bar before, during and post-show.
How can I purchase tickets for a concert at P&J Live?

Tickets are available from our ticketing agents Ticketmaster on www.ticketmaster.co.uk and Seat Unique on https://pandjlive.seatunique.c...

P&J Live do not sell tickets directly.
How do I register for access to venue presale?

For certain events, venue presale tickets might be on offer. This means you'll be access tickets before they go on general sale.

To gain access to our exclusive venue presale, sign up to our newsletterhere and we will send you an email with the presale link for tickets go on general sale!

Tip: Also follow us on Facebook, Twitter and Instagram to stay updated.
How can I book a table at 195 Bar & Grill?

Our 195 Bar & Grill offers a unique dining experience before selected shows at P&J Live. You can check availability and book a table here.
Will I be able to purchase food at P&J Live?

There is a wide range of food and beverage options available to purchase for concerts and events, including catering outlets offering a variety of hot food options.

Please note - it is against venue policy to allow patrons to bring in their own food and drink to the venue. At P&J live it is our aim to be completely cashless, all of our bars, kiosks and restaurants accept card payments, this is more efficient, safe and ensures a speedy transaction. There are therefore no cash machines on the TECA site.
Is there parking available at P&J Live?

Yes, there is parking available on-site at P&J Live.

There are various ways to pay for your parking at P&J Live

On site payment machines: We accept both cash and card payments on site, pay on exit is required by entering your vehicle registration at any one of our machines located in the car parks. Please note payment machines only take coins and not notes.

APCOA Connect App: Up to 24 hour after you have left the venue, you can pay for your parking on the APCOA Connect App. Once you have downloaded the app, use location code 6680 for the Sub-T Car Park (underground) and location code 2356 for the Surface Car Park.

You can also pay for parking via the APCOA website here, click which car park you parked in and then you will be able to pay for parking.
Can I pay by cash within P&J Live?

At P&J Live it is our aim to be completely cashless, all of our bars, kiosks and restaurants accept card and contactless payments. This is more efficient, safe and ensures a speedy transaction.

There are no cash machines on the TECA sites.
What bus can take me to P&J Live?

Regular buses will be coming in and out of the complex daily for public use. Details on bus routes and operators are still in discussion and any updates will be posted on the getting here page of the website.

Currently, the Stagecoach Bluebird Jet Service 727 runs regularly from Aberdeen City Centre to Aberdeen Airport, stopping in the TECA site.
How do I purchase accessible seating for a show at P&J Live?

All the tickets for our Special Access Platform are sold via our ticket agent Ticketmaster.

Further information on accessibility at the Venue can be found on our Accessibility page.