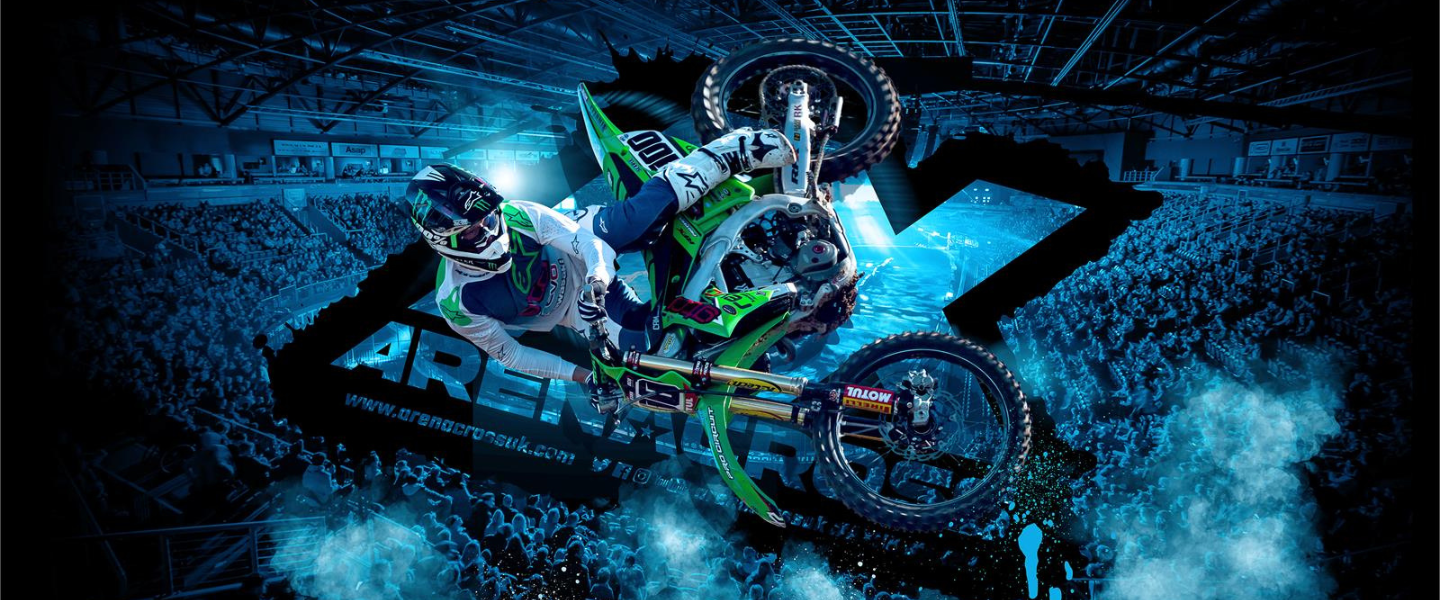 Tommy Searle Signs for Arenacross
Reigning British MX Champion Tommy Searle has thrown his cap in the arena and signed up to contest the full six-round action-packed 2023 Arenacross indoor motocross championship.
The consistently-fast former World number two and back-to-back British Champion led the outdoor series from the opening round to secure the title. He is now set to adapt his immeasurable race skills for the short and sharp combating style of Arenacross racing.
Searle returns to Kawasaki for next year. This means that motocross enthusiasts attending any one of the six rounds of Arenacross at leading arenas in Belfast, Aberdeen, Birmingham and London, will be the very first in the UK to see the 33-year-old ace in competitive action on the Team Green with GTCI Revo Kawasaki race bike.
Searle competed indoors at Arenacross throughout his youth career and believes Arenacross played a big part in how he developed as a rider. He said; "The feeling of being in a city, lining up in front of thousands of fans is the best – something that every young rider should be doing as there's no better training than racing. It develops their skill set, their race craft.
"I can even remember my first ever indoor race in Exeter, the start line, packed crowd, first corner, whoops, air horns, nerves, watching the top boys racing … it's just a mega feeling that I will never forget," added Searle.
Commenting on the Arenacross signing of the British MX Champion, Matt Bates, Arenacross promoter said; "We're excited to be able to make this announcement about Tommy. It's incredible to hear him talking about his early indoor racing memories, particularly as we staged the Exeter event almost 20 years ago. We can't wait to see him line up on the Arenacross start line ready to do battle when the gate drops in Belfast next January.'
Tommy talks about his history, experiences and future with Arenacross in the latest episode of the podcast, 2 Pro 1 Slow. Filming for the podcast will also take place at 2032 Arenacross rounds.
The 2023 Arenacross Tour:
Round 1: Friday 20th January – SSE Arena, Belfast, Northern Ireland
Round 2: Saturday 21st January – SSE Arena, Belfast, Northern Ireland
Round 3: Saturday 28th January – P&J Live, Aberdeen, Scotland
Round 4: Sunday 29th January – P&J Live, Aberdeen, Scotland
Round 5: Saturday 4th February – The Resorts World Arena, Birmingham NEC, England
Round 6: Saturday 18th February – The OVO Arena, Wembley, England
Visit www.arenacrossuk.com for more Arenacross news. You can book your tickets here.
Frequently Asked Questions
How can I buy Premium tickets?
How can I buy a VIP View Bar Upgrade?

You can purchase a VIP View Bar Upgrade to selected events here. It includes early access, fast-track entry, complimentary drink on arrival and access to the View Bar before, during and post-show.
How can I purchase tickets for a concert at P&J Live?

Tickets are available from our ticketing agent Ticketmaster on www.ticketmaster.co.uk

P&J Live do not sell tickets directly.
How do I register for access to venue presale?

For certain events, venue presale tickets might be on offer. This means you'll be access tickets before they go on general sale.

To gain access to our exclusive venue presale, sign up to our newsletterhere and we will send you an email with the presale link for tickets go on general sale!

Tip: Also follow us on Facebook, Twitter and Instagram to stay updated.
How can I book a table at 195 Bar & Grill?

Our 195 Bar & Grill offers a unique dining experience before selected shows at P&J Live. You can check availability and book a table here.
Will I be able to purchase food at P&J Live?

There is a wide range of food and beverage options available to purchase for concerts and events, including catering outlets offering a variety of hot food options.

Please note - it is against venue policy to allow patrons to bring in their own food and drink to the venue. At P&J live it is our aim to be completely cashless, all of our bars, kiosks and restaurants accept card payments, this is more efficient, safe and ensures a speedy transaction. There are therefore no cash machines on the TECA site.
Is there parking available at P&J Live?

Yes, there is parking available on-site at P&J Live.

There are various ways to pay for your parking at P&J Live

On site payment machines: We accept both cash and card payments on site, pay on exit is required by entering your vehicle registration at any one of our machines located in the car parks. Please note payment machines only take coins and not notes.

APCOA Connect App: Up to 24 hour after you have left the venue, you can pay for your parking on the APCOA Connect App. Once you have downloaded the app, use location code 6680 for the Sub-T Car Park (underground) and location code 2356 for the Surface Car Park.

You can also pay for parking via the APCOA website here, click which car park you parked in and then you will be able to pay for parking.
Can I pay by cash within P&J Live?

At P&J Live it is our aim to be completely cashless, all of our bars, kiosks and restaurants accept card and contactless payments. This is more efficient, safe and ensures a speedy transaction.

There are no cash machines on the TECA sites.
What bus can take me to P&J Live?

Regular buses will be coming in and out of the complex daily for public use. Details on bus routes and operators are still in discussion and any updates will be posted on the getting here page of the website.

Currently, the Stagecoach Bluebird Jet Service 727 runs regularly from Aberdeen City Centre to Aberdeen Airport, stopping in the TECA site.
How do I purchase accessible seating for a show at P&J Live?

All the tickets for our Special Access Platform are sold via our ticket agent Ticketmaster.

Further information on accessibility at the Venue can be found on our Accessibility page.