STAFF SPOTLIGHT: SANDY ALLAN – Electrical Services Manager
The events industry offers a wide range of exciting and dynamic career opportunities. From event planning and coordination to marketing and catering, there are many paths to explore. A career in events can be fast paced, challenging, and really fulfilling.
To give you a picture of the available careers in the industry, we're giving our staff a spotlight, showcasing what skills and talents they bring to P&J Live.
First up is our Electrical Services Manager, Sandy Allan, who has provided a quick snapshot of life as an Electrician at P&J Live. Sandy started as a sub-contractor at the Aberdeen Exhibition Conference Centre when it first opened in 1985 and had been permanently employed since 2007 before moving to P&J Live.
What does a typical day at P&J Live look like for you?
I don't have a typical day at P&J Live due to the nature of the business. The variety of events that take place at the venue can mean that one day I'm working in an exhibition environment and the next I could be assisting in the electrical requirements for a concert.
In the run up to an event you'll find me working on plans, booking labour, ordering materials, and liaising with other departments to ensure we are all working to the same timetable. During the build of an event, I will work on the installation of electrical supplies – for example, during a conference and exhibition, the shell scheme stands will be built first and then I'll install the electrical requirements (e.g., sockets and lights) as required and ordered by the client. The size of an exhibition can vary from 10 stands up to 200+ stands meaning that there is variety in the work I do.
I also look after the electrical requirements for arena shows. I will install the large electrical supplies that are required to power the lights, sound, video walls and more. We also need to have a presence on site from the start of load-in all the way through to load-out which is usually split between myself and our electrician, Stuart Howie. This is to provide technical assistance to the production crew as and when it is required. We are also responsible for controlling the house lights during a concert.
During quieter times we will carry out maintenance on the large amount of equipment we have on site.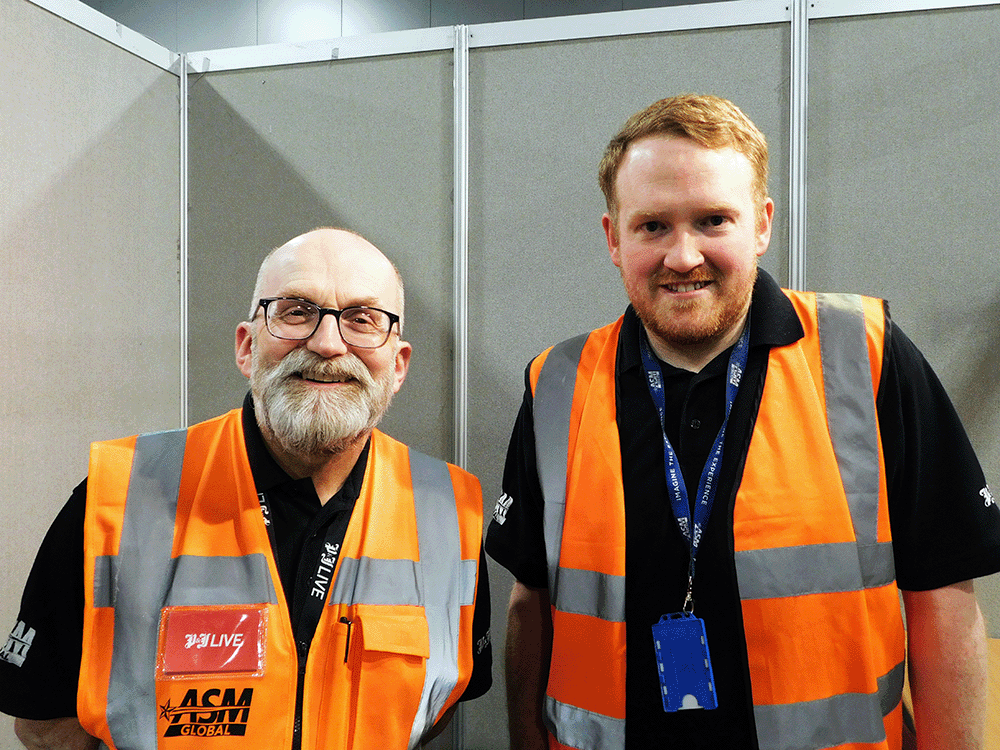 What do you enjoy most about your job?
The people. Working with a great bunch of people certainly makes the already rewarding job more enjoyable.
What is the most challenging part of your job?
The unpredictable nature of the events industry means that changes can occur last minute, and we have to think on our feet and come up with a solution for the client and the business.
What do you like to do in your spare time?
I enjoy spending time with family and friends and can often be found at the theatre or watching the latest movie in the cinema.
Frequently Asked Questions
How can I buy Premium tickets?
How can I buy a VIP View Bar Upgrade?

You can purchase a VIP View Bar Upgrade to selected events here. It includes early access, fast-track entry, complimentary drink on arrival and access to the View Bar before, during and post-show.
How can I purchase tickets for a concert at P&J Live?

Tickets are available from our ticketing agent Ticketmaster on www.ticketmaster.co.uk

P&J Live do not sell tickets directly.
How do I register for access to venue presale?

For certain events, venue presale tickets might be on offer. This means you'll be access tickets before they go on general sale.

To gain access to our exclusive venue presale, sign up to our newsletterhere and we will send you an email with the presale link for tickets go on general sale!

Tip: Also follow us on Facebook, Twitter and Instagram to stay updated.
How can I book a table at 195 Bar & Grill?

Our 195 Bar & Grill offers a unique dining experience before selected shows at P&J Live. You can check availability and book a table here.
Will I be able to purchase food at P&J Live?

There is a wide range of food and beverage options available to purchase for concerts and events, including catering outlets offering a variety of hot food options.

Please note - it is against venue policy to allow patrons to bring in their own food and drink to the venue. At P&J live it is our aim to be completely cashless, all of our bars, kiosks and restaurants accept card payments, this is more efficient, safe and ensures a speedy transaction. There are therefore no cash machines on the TECA site.
Is there parking available at P&J Live?

Yes, there is parking available on-site at P&J Live.

There are various ways to pay for your parking at P&J Live

On site payment machines: We accept both cash and card payments on site, pay on exit is required by entering your vehicle registration at any one of our machines located in the car parks. Please note payment machines only take coins and not notes.

APCOA Connect App: Up to 24 hour after you have left the venue, you can pay for your parking on the APCOA Connect App. Once you have downloaded the app, use location code 6680 for the Sub-T Car Park (underground) and location code 2356 for the Surface Car Park.

You can also pay for parking via the APCOA website here, click which car park you parked in and then you will be able to pay for parking.
Can I pay by cash within P&J Live?

At P&J Live it is our aim to be completely cashless, all of our bars, kiosks and restaurants accept card and contactless payments. This is more efficient, safe and ensures a speedy transaction.

There are no cash machines on the TECA sites.
What bus can take me to P&J Live?

Regular buses will be coming in and out of the complex daily for public use. Details on bus routes and operators are still in discussion and any updates will be posted on the getting here page of the website.

Currently, the Stagecoach Bluebird Jet Service 727 runs regularly from Aberdeen City Centre to Aberdeen Airport, stopping in the TECA site.
How do I purchase accessible seating for a show at P&J Live?

All the tickets for our Special Access Platform are sold via our ticket agent Ticketmaster.

Further information on accessibility at the Venue can be found on our Accessibility page.