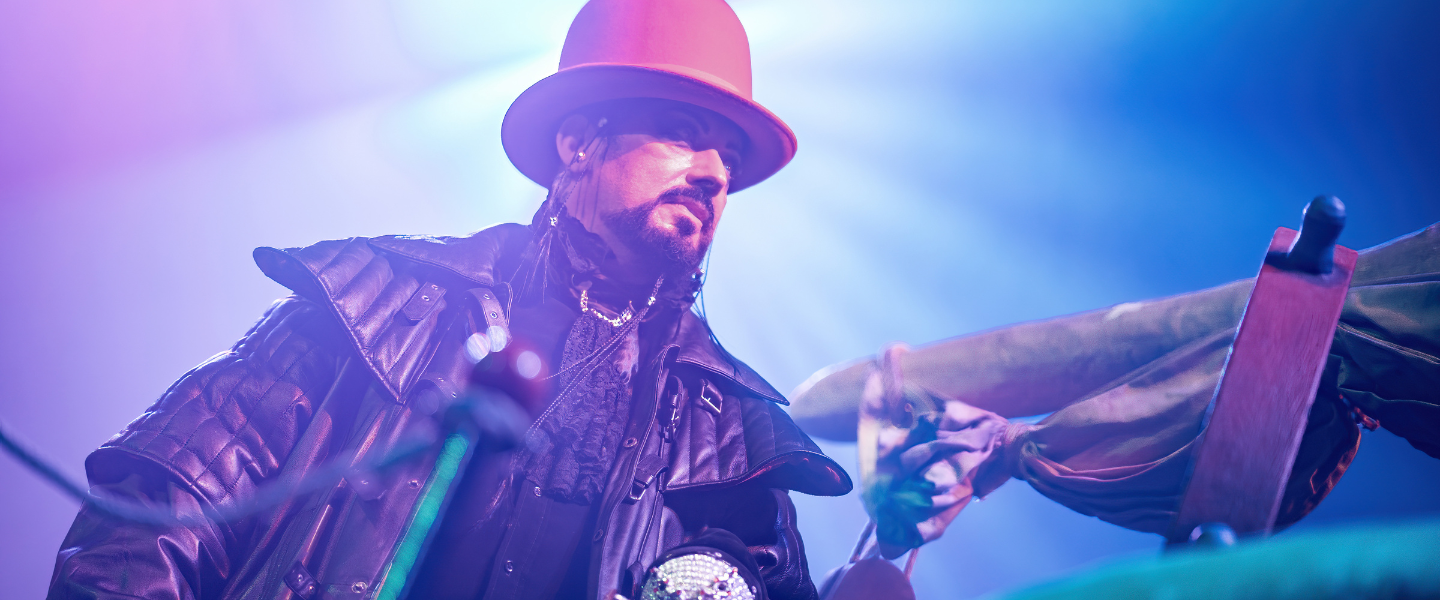 Boy George sets sail to Neverland for panto debut as Captain Hook in spectacular arena tour
From Culture Club to The A Team, I'm A Celebrity to The Voice, singer, actor and fashion designer Boy George has done it all… almost. This winter, the flamboyant 80's icon is taking on a brand new challenge making his pantomime debut as Captain Hook in World's Biggest Panto's arena spectacular production of Peter Pan.
Boy George, real name George O'Dowd, admits he can't wait for what does indeed promise to be a very big adventure. Having turned down offers to do panto in the past, reveals that this one attracted him due to the sheer scale and ambition of the endeavour.
"With me, whenever I do something it's very instinctual and in the moment, so it wasn't something I thought about long and hard," he says, adding, "I'd seen that Martin Kemp had done it on TV and thought it would be fun. I think it's going to be a hoot. I'm looking forward to it."
Peter Pan, starring Boy George, will tour the length of the U.K. It's a massive production featuring breath-taking effects, swash-buckling sword-fights, death-defying stunts and all the magic of Neverland.
George elaborates, "It's called the World's Biggest Panto because it takes place in arenas and even has a life-size galleon, a huge cast and amazing digital scenery on huge screens. The scale and spectacle is what attracted me. If I was going to do a panto it had to be something special and unique."
A show that's great fun for all the family, it's one that highlights the appeal of Boy George for generations of fans; parents and grandparents may know him for his chart success with hits such as Karma Chameleon and Do You Really Want To Hurt Me? while many youngsters discovered him during his time on I'm A Celebrity, Get Me Out Of Here and as a judge on ITV's The Voice.
Fittingly for a show boasting the biggest name in pantoland this year, this spectacular production of JM Barrie's much-loved tale is on a scale seldom seen anywhere in the world. Transported across the country in eight HGV's and with a cast and company in excess of 100 people, it also uses 10 miles of cabling and features 1,250 local children who will form junior choirs at each venue. And let's not forget Captain Hook's magnificent galleon, which is eight metres long, two and a half metres wide and five metres high.
"There is one bit in the show where I get 200 inflatable cannon balls thrown at me by the audience. It's insane. I look forward to the swords fights every show too," reveals George, insisting he loves being in the middle of all the action.
"I'm definitely not hiding behind the hydraulics," he laughs. "When I do something I commit to it completely. I don't do anything in a half-hearted manner whether it's making a cup of coffee or playing Captain Hook. All these things make the show fun and I wouldn't be doing it if I wasn't prepared to do everything I can to make it great".
Taking to the stage with George will be dare devil comedian Jordan Conway in the title role. George is also looking forward to their battles as Hook pursues the leader of the Lost Boys. He says, "Obviously I've now met the cast and they are all so adorable. It's such a fun, family orientated experience. I don't see it as work, I see it as fun. I've never really had a regular job so to me it's very exciting".
He continues, "I've performed with Jordan a few times now, he is very dedicated and has a similar sense of humour to me. I'm sure that he and I will continue to ad-lib throughout the run, especially in the scene where we trade insults before we launch into the sword fight. He's did a 15,000 feet skydive to publicise the show… I'm not that dedicated".
However, it seems that while Jordan may be playing the titular role, his Peter Pan is not the only Boy who never grew up in this spectacular.
George admits, "I've always been a bit of a kid at heart. I still have a sense of adventure and welcome new challenges. It's important to embrace new ideas and with Peter Pan I plan to take it seriously and do the best I can".
He laughs, "After all, there's no rest for the wicked and they don't get any more wicked than Captain Hook.
Peter Pan The Arena Spectacular is coming to P&J Live on 27th December 2023. You can buy your tickets here.
Frequently Asked Questions
How can I buy Premium tickets?

You can see our hospitality packages here. To discuss premium experiences or package options, contact our team or purchase online via Seat Unique.
How can I buy a VIP View Bar Upgrade?

You can purchase a VIP View Bar Upgrade to selected events here. It includes early access, fast-track entry, complimentary drink on arrival and access to the View Bar before, during and post-show.
How can I purchase tickets for a concert at P&J Live?

Tickets are available from our ticketing agents Ticketmaster on www.ticketmaster.co.uk and Seat Unique on https://pandjlive.seatunique.c...

P&J Live do not sell tickets directly.
How do I register for access to venue presale?

For certain events, venue presale tickets might be on offer. This means you'll be access tickets before they go on general sale.

To gain access to our exclusive venue presale, sign up to our newsletterhere and we will send you an email with the presale link for tickets go on general sale!

Tip: Also follow us on Facebook, Twitter and Instagram to stay updated.
How can I book a table at 195 Bar & Grill?

Our 195 Bar & Grill offers a unique dining experience before selected shows at P&J Live. You can check availability and book a table here.
Will I be able to purchase food at P&J Live?

There is a wide range of food and beverage options available to purchase for concerts and events, including catering outlets offering a variety of hot food options.

Please note - it is against venue policy to allow patrons to bring in their own food and drink to the venue. At P&J live it is our aim to be completely cashless, all of our bars, kiosks and restaurants accept card payments, this is more efficient, safe and ensures a speedy transaction. There are therefore no cash machines on the TECA site.
Is there parking available at P&J Live?

Yes, there is parking available on-site at P&J Live.

There are various ways to pay for your parking at P&J Live

On site payment machines: We accept both cash and card payments on site, pay on exit is required by entering your vehicle registration at any one of our machines located in the car parks. Please note payment machines only take coins and not notes.

APCOA Connect App: Up to 24 hour after you have left the venue, you can pay for your parking on the APCOA Connect App. Once you have downloaded the app, use location code 6680 for the Sub-T Car Park (underground) and location code 2356 for the Surface Car Park.

You can also pay for parking via the APCOA website here, click which car park you parked in and then you will be able to pay for parking.
Can I pay by cash within P&J Live?

At P&J Live it is our aim to be completely cashless, all of our bars, kiosks and restaurants accept card and contactless payments. This is more efficient, safe and ensures a speedy transaction.

There are no cash machines on the TECA sites.
What bus can take me to P&J Live?

Regular buses will be coming in and out of the complex daily for public use. Details on bus routes and operators are still in discussion and any updates will be posted on the getting here page of the website.

Currently, the Stagecoach Bluebird Jet Service 727 runs regularly from Aberdeen City Centre to Aberdeen Airport, stopping in the TECA site.
How do I purchase accessible seating for a show at P&J Live?

All the tickets for our Special Access Platform are sold via our ticket agent Ticketmaster.

Further information on accessibility at the Venue can be found on our Accessibility page.